My friend Laura choose my blog to receive the ... FABULOUS Award!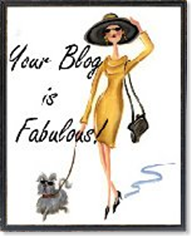 Here are the rules for this Award.
You have to pass it on to 5 other fabulous blogs.
You have to list 5 of your fabulous addictions.
On your post of receiving this award, make sure you include the person that gave you the award and link back to their blog.
My 5 fabulous addictions:
scrapbooking
photography
My Mac
iPod touch
and 5 Fabulous Blogs I'd like to pass this award on to: